June 29, 2023 - 18:30 to 22:00
Charlestown, Cornwall
Join us onboard Lady Daphne in Charlestown Harbour with Falmouth Based illustrator Matt Johnson who will be introducing his illustrated book Red Sail & Pilchards – an introduction to Cornwall's fishing history.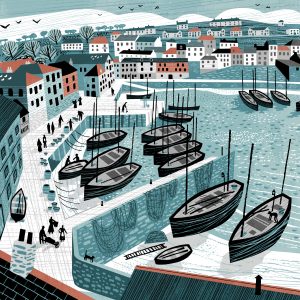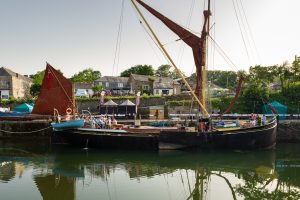 Drinks will be available from our Bar throughout the Evening.
£8 per Entry Ticket (Bookable Below), Pre booking required as limited Capacity. Bar open from 6:30pm, presentation starts from 7:00pm.
Please ensure both Email and Mobile number are correct  when booking as they are used in the Booking/payment process.
In his talk, Matt will explain how the book got off the ground and how he researched it on location and in Cornwall's museums and libraries. He'll also show his illustration process with its mix of hand-drawn and digital elements and the journey from initial rough sketches to final printing. The talk will be accompanied by plenty of sketches, artwork and videos.
 Matt Johnson is illustrator based in Falmouth. He loves soaking up all the details going on in the natural world, with Cornish wildlife and landscapes featuring heavily in his book covers and print designs. Matt's style is most strongly associated with the Cornish fashion brand, Seasalt, where he designed in-house for over 18 years. He currently works freelance, creating illustrations for clients such as Bloomsbury Publishing, the Woodland Trust and the RNLI.
Red Sails & Pilchards synopsis: The 36-page illustrated book is an introduction to Cornwall's fishing history, and its heyday in the era of sail, inspired by the Country Life and Puffin picture books from the 1930s and 40s. It's full of maps and diagrams of harbours, sailing luggers, fishing artefacts, sea creatures and nautical heritage as well as plenty of Cornish language and dialect words. Hardback with gorgeous red quarter cloth binding and patterned endpapers. A great souvenir or gift for lovers of Cornish harbours, traditional wooden boats, and vintage book design.